16 Aug

Dubrovnik – A Jewel in the Azure Adriatic Sea

Dubrovnik, the "Pearl of the Adriatic, " is located on Croatia's southern coast, overlooking the Adriatic Sea. It is situated in the region of Dalmatia and is known for its stunning Old Town, now a UNESCO World Heritage Site dating back to the 16th century. It is a stunning destination that captivates visitors with its beautiful architecture, rich history, and breathtaking scenery. From the moment I set foot in Dubrovnik's Old Town, I was amazed by its well-preserved medieval walls, red-tiled roofs, and cobbled streets. Walking along the city's walls, I felt like I was stepping back in time and experiencing Dubrovnik's past.

The city's history is just as impressive as its architecture. Dubrovnik was a powerful city-state during the Middle Ages, and its wealth and influence can still be seen in the many palaces, churches, and monasteries scattered throughout the city. Dubrovnik's strategic location on the Adriatic also made it an important trading hub, and the city's maritime heritage is celebrated in its museums and galleries.

Dubrovnik is a truly magical place that amazes me; it's a must-see destination for anyone visiting Croatia or the Adriatic region, with its unique blend of history, culture, and natural beauty.
By Plane: Dubrovnik Airport (DBV) is located about 20 kilometres from the city centre and is served by several international airlines, including Croatian Airlines, British Airways, Lufthansa, and Ryanair.
By Car: Dubrovnik is connected to the rest of Croatia and Europe by a network of highways. If you are driving from Zagreb, take the A1 highway south to Split, and then continue on the E65 coastal road to Dubrovnik. The journey takes around 6-7 hours.
By Bus: Dubrovnik has daily bus connections to many cities in Croatia and neighbouring countries, including Zagreb, Split, Sarajevo, and Mostar. The bus station is located just outside the Old Town.
By Ferry: Dubrovnik is also served by several ferry routes from nearby islands and coastal cities, including Split, Hvar, Korčula, and Mljet. The ferry terminal is located in the port of Gruž, which is about 2 kilometres from the Old Town.
Dubrovnik Old Town is a treasure trove of history and beauty. Stepping into its cobblestone streets feels like stepping back in time. Enclosed within the formidable city walls, this UNESCO World Heritage site is a living museum filled with architectural wonders, cultural landmarks, and a vibrant atmosphere. As you wander through narrow streets, you'll be greeted by stunning medieval buildings adorned with red-tiled roofs. The Stradun, the main road, is the heart of the Old Town, with charming shops, cosy cafes, and inviting restaurants.
Dubrovnik Old Town has remarkable landmarks, such as the grand Rector's Palace, the elegant Sponza Palace, and the ornate St. Blaise Church. Discover hidden gems like Onofrio's Fountain, the Franciscan Monastery with its beautiful abbey, and the iconic Pile Gate, the main entrance to the Old Town. Climb the ancient city walls to enjoy breathtaking vistas of the red rooftops, the shimmering sea, and the nearby Lokrum Island. The sight is awe-inspiring and offers a unique perspective on the city's beauty.
The Walls of Dubrovnik are a mesmerising sight and a testament to the city's rich history with a unique perspective on the city's past and present. These ancient fortifications stand tall, encircling the historic centre of Dubrovnik, Croatia. They are not just walls but fascinating architectural marvel that has withstood the test of time. Walking along the fortified walls, you'll be treated to breathtaking views of the city's red-tiled roofs, the azure Adriatic Sea, and the charming streets below.
The Ombla River is a hidden gem nestled near the city of Dubrovnik. Flowing through a picturesque valley, it is the shortest river in the world, stretching only 30 meters long. Despite its small size, the Ombla River is significant for the region. Known as the "Dubrovnik's River," the Ombla River has played an essential role in the city's history and development. It served as a vital source for Dubrovnik, supplying fresh water to the city's residents for centuries.

It is home to a unique phenomenon called "ponors," where the river's waters disappear underground through porous limestone, creating a mystical and captivating sight. The riverbanks are adorned with charming houses, traditional mills, and picturesque gardens, adding to the area's beauty. It is a perfect spot for a stroll, enjoying the peaceful surroundings and observing the local flora and fauna.
Lovrijenac, also known as the "Dubrovnik Fortress," is a stunning landmark not to be missed. The fortress is located on a rocky cliff outside the Old Town and offers spectacular views of the Adriatic Sea and the surrounding area. Book tickets here.
Franciscan Church and Monastery
A must-visit destination known for its beautiful architecture and rich history. The church and monastery are located in the heart of the Old Town and are easily recognisable by their beautiful bell tower. Book tour here.
This stunning baroque cathedral was built in the 18th century and housed many treasures, including a painting by Titian. Book tour here.
Take a cable car ride to the top of Mount Srđ for panoramic views of Dubrovnik and the surrounding area. Book tickets here.
This popular beach is located just outside the Old Town and offers crystal-clear waters, sun loungers, and umbrellas. Book tickets here.
Take a short ferry ride to this beautiful island just off the coast of Dubrovnik. Explore the botanical garden, swim in the saltwater lake, and visit the ruins of an old monastery. Book tickets here.
This annual festival takes place in July and August and features theatre, music, dance, and other cultural events.
Luxury Hotels
This hotel offers breathtaking sea views near the old town of Dubrovnik, a UNESCO World Heritage Site. It is also close to Lokrum Island, a popular tourist destination.
Mid-Range Hotels
With breathtaking sea views, an outdoor pool, and spa facilities, this great hotel is situated near the historic Old Town, a world-famous destination known for its beautiful architecture and cultural landmarks.
Budget Hotels
A charming guesthouse in Dubrovnik, located in the Ploče neighbourhood. It offers stunning sea views and is conveniently near the Old Town, a famous destination known for its historical landmarks and cultural significance.
Nishta: A vegetarian and vegan restaurant in Dubrovnik's Old Town. It offers a cosy and charming atmosphere, specialising in creative and flavorful plant-based dishes.
Dubravka 1836 Restaurant & Cafe: Located in the historic Old Town of Dubrovnik, this unique cafe offers breathtaking sea views and a menu specialising in Croatian and international cuisine.
Pizzeria Tabasco: It is located in the Lapad neighbourhood of Dubrovnik, offering a range of delicious thin-crust pizzas with various toppings, pasta, and salads.
Poklisar: A traditional Dalmatian restaurant located in the Old Town of Dubrovnik, serving grilled meats, seafood, and a variety of Croatian specialities.
Dubrovnik is a truly magical city that offers visitors an unforgettable travel experience, from its stunning Old Town, picturesque beaches, and breathtaking views to its rich history and vibrant culture.
A destination that is best explored on foot, with its charming narrow streets and hidden corners waiting to be discovered. Whether you walk the city walls, explore the Old Town, or take a cable car ride to the top of Mount Srđ, you will surely be rewarded with spectacular views and unforgettable memories.
Overall, Dubrovnik is a destination that should be on every traveller's bucket list. Its unique combination of history, culture, and natural beauty makes it a place that is sure to leave a lasting impression. So pack your bags, grab your camera, and get ready for an adventure in this stunning city on the Adriatic coast.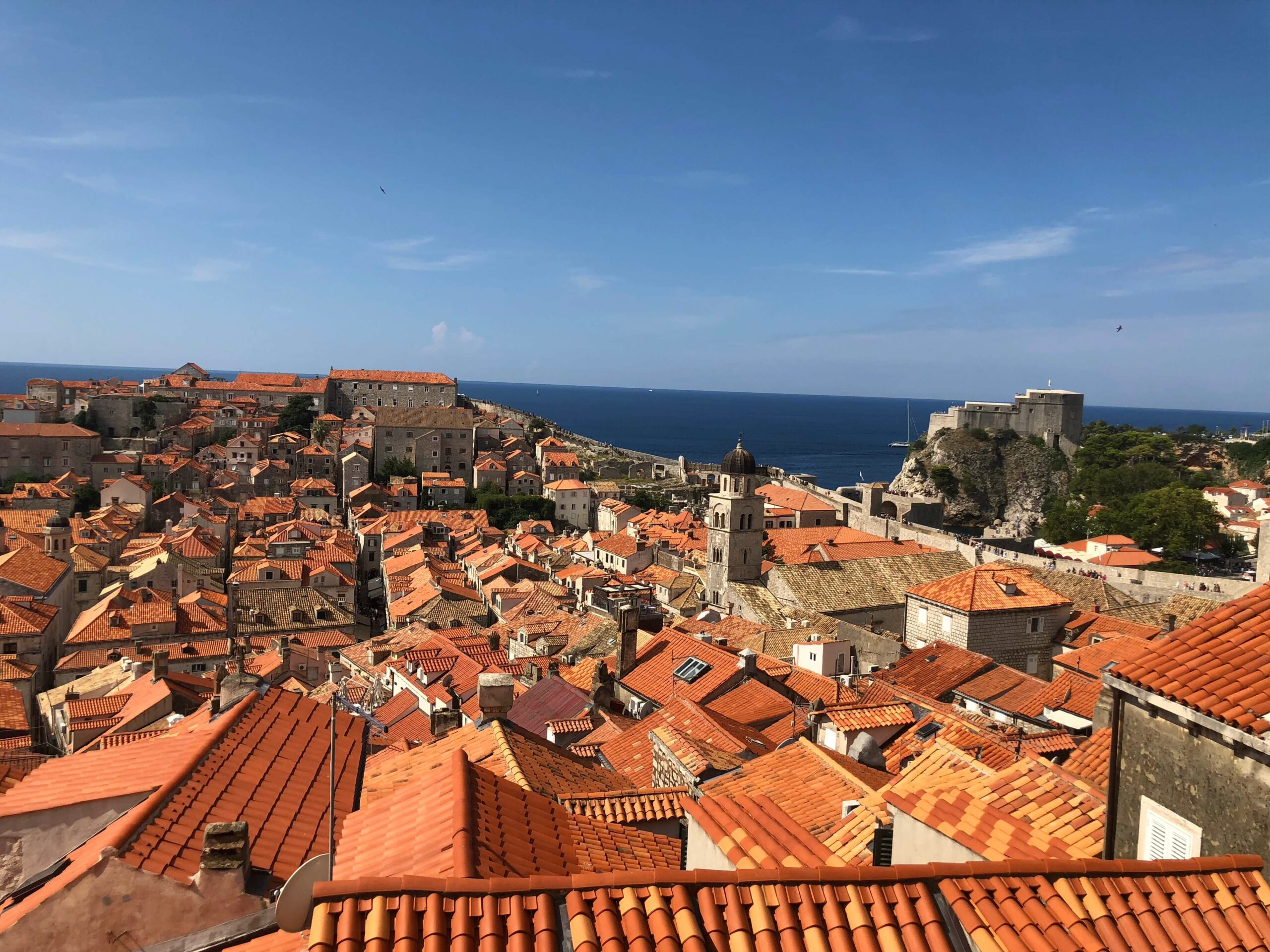 Some links in this post are affiliate links, which means if you click on the link and purchase an item, I will receive a commission at no extra cost to you. All opinions are my own.